Author - Awards
(i) Martin Luther King Jr Foundation Award Philadelphia 1972 when he gave the Keynote Address with Nobel Prize winners Linus Pauling and Max Perutz present.

(ii) The Ghana Academy Gold Award in Medical Sciences, Accra, 1974

(iii) Guinness Award for Scientific Achievement (GASA) in the Commonwealth London 1976

(iv) Third World Academy of Sciences Award (TWAS) 1998 (Dakar 1999)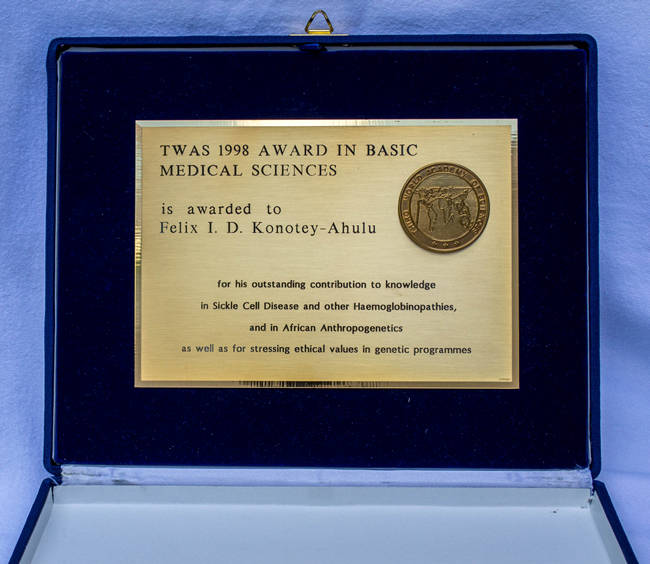 (v) Awarded Honorary Doctorate in Science University of Cape Coast Ghana plus a Personal Chair
Kwegyir Aggrey Distinguished Professor of Human Genetics University of Cape Coast Ghana, Faculty of Science in 2000 when "TIME WAS CREATED" his Millennium Hymn was first sung by the University Choir.
(vi) African American Museum In Philadelphia [AAMP] Humanitarian Award May 5 2007 "presented in recognition of your distinguished service and exceptional contributions to the people of Africa and to the world". Lecture: "The Remarkable African Ear: Phenomenon of Mid Pitch Arrest in Krobo/Dangme- Gã Tonal Languages of South East Ghana" [Publication 267]

(vii) Award Citation for Meritorious Service presented by Nene Sakite II, Konor of Manya Krobo
conferring on him the title "Klo Hingmε – Eye of Krobo" after Ghana@50 Lecture on Tonal Linguistics, Ghana Academy of Arts & Sciences, 30th October 2007 at The British Council, Accra.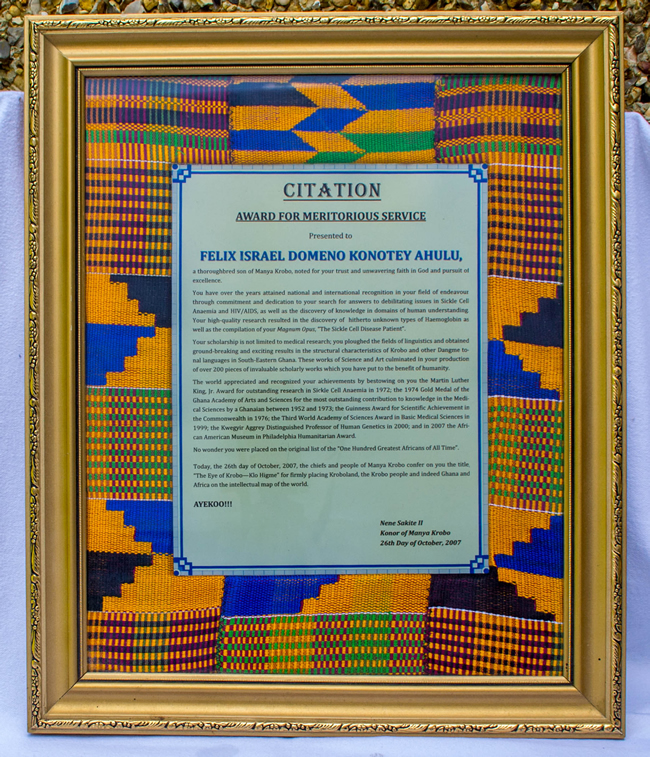 (viii) Ghana National Award 2008 by President J A Kufuor ORDER OF THE VOLTA – OFFICER "for
distinguishing yourself in MEDICINE/RESEARCH INTO SICKLE CELLS"


(ix) Awarded SICKLE CELL PIONEER SCIENTIST "In recognition of your pioneering scientific work in sickle cell disease and its effects on Africans known to the world" at The First Global Congress in Sickle Cell Disease in Commemoration of 100 years following the publication of the first clinical case of Sickle Cell Disease – held in Accra Ghana on Tuesday 16th July 2010.


(x) Academy of The Developing World 2010 TWAS REGIONAL PRIZE ON PUBLIC UNDERSTANDING AND POPULARIZATION OF SCIENCE. Announced 21st General Meeting in Hyderabad, India 19th & 20th October 2010. Presented at 5th TWAS-ROSSA Young Scientists Conference (The African Academy of Sciences) 26th - 27th February 2011 in Nairobi, Kenya when he gave two Award Lectures.

(xi) ExLA PLATINUMN AWARD FOR SCIENTIFIC RESEARCH & LINGUISTICS Accra Dec 10 2014, Institute of African Studies, Univ. of Ghana. "The Excellent Leadership Awards Group is proud to present the PLATINUM Award for EXCELLENCE in SCIENTIFIC RESEARCH and INVENTIONS to you, Pioneer, Scientist, Inventor".

(xii) OSAGYEFO KWAME NKRUMAH AFRICAN GENIUS AWARD Accra, Ghana December 12 2014 – The First Recipient in MEDICINE for Original Contributions in Internal Medicine in general, and in particular Sickle Cell Disease, AIDS Epidemiology, African Anthropogenetics and Ethics in Clinical Medicine.

---
Professor F I D Konotey-Ahulu has been voted (by the over 150,000 readers of the London-based international monthly New African) among the 100 Greatest Africans of all time. He was astonished to find himself at No. 53 [See Attached].

He was Guest of Honour, Westminster Hospital School of Medicine 1959 Graduates Alumni
Dinner/Lecture 2012 at The Athenaeum, London SW1.

---
See http://www.bmj.com/content/358/bmj.4101.rr-0 Konotey-Ahulu FID. Genetic Testing and Counselling Towards Genetic Public Health. BMJ December 21 2017, Rapid Response to "A clinical approach to genetic testing for non-specialists" BMJ 2017; 358: j4101 - C Semsarian & J Ingles, and to A. Streetly's 18th Oct. comment.
His website www.konotey-ahulu.com or www.sicklecell.md is for public education.